CALABAR CARNIVAL FESTIVAL: "AFRICA`S BIGGEST STREET PARTY" SHOWCASING EFIK, NIGERIAN, AFRICAN AND DIASPORIAN CULTURES
The Calabar Carnival festival is an annual Christmas festival that takes place in Cross River State,South Eastern Nigeria. The event tagged as undisputed "Africa's Biggest Street Party", was created in 2000 as part of the vision of showcasing the milestone of the Cross River State, the first Capital of Nigeria as the number one tourist destination for Nigerians and tourist all over the world.
Efik ladies from the Cross River State of Calabar in their traditional Efik hairstyle an carnival costume at Calabar Carnival festival. Courtesy
Tunde LEMUEL
Calabar city developed from an ancient slave port and its location on the Calabar River, a tributary of the Cross River,which is lined up to the main river by many navigable creeks, gave it its greatest advantage as a trading port.
Nigerian ace Nollywood stars, Rita Dominics, Ramsey Noah, Peter Edochie and other lady at Calabar Carnival Festival at Calabar, Cross River State, Nigeria.
Soon after the British treaty with the chiefs of Old Calabar, abolishing the slave trade in 1841, the Efik traders were quick to make a transition from the slave economy to one that came to be supported by palm oil trade (Noah,1978). Since then Calabar became not only a legitimate trade centre but also a missionary and administrative centre. At one time (1901 - 1906), Calabar was national capital, before it was removed to Lagos (Jennings andOduah, 1996). The eastern regional capital was also located here before it was transferred to Enugu (Udo, 1978). The locational lag on the part of Calabar was the lack in (especially land) transportation development in the hinterland.
The carnival which begin on every 1st of December and last till 31st December has boosted the cultural mosaic of Nigeria people while entertaining the millions of spectators within and outside the State, and boosting industry for all stakeholders. Calabar Carnival resembles its model- carnival or "mas' in Trinidad and Tobago (T&T)- Calabar Carnival is a street parade that is organized by bands with section of performers dressed in identical costumes and masks.
Statue of an Efik woman, Calabar, Cross River State, Nigeria
There is a loud music, dancing, competitions, floats and even Cross River State band. However, Calabar Carnival is unique in that it is a Trinidadian-style carnival held in an African city without pre-existing Caribbean influence (Amanda B Carlson, 2010).
Carnival is a street festival which brings communities together in celebration, largely on the back of voluntary participation – the archetypal big society showcase. In the UK it can encompass highly localized British traditions, such as Notting Hill's flagship African-Carribean event, to more recent hybrids accommodating both Brazilian and world music and a variety of street and performing arts (Goodwin, 2008).
Carnival's community spirit is the result of the cumulative efforts of many talented artists –musicians, costume designers, dancers, street theatre performers and sound engineers. Carnival arts are now recognized by the Arts Council as a "combined art": one that, at its best, brings together many art forms and traditions in new innovative production and performance (Agnes, 2004)
The Calabar Carnival has gone a long way since its inception in 2004, when the then governor of the State, Mr. Donald Duke had a vision of making the state the hub for tourism and hospitality in Nigerian and in Africa. In its first celebration, it featured the Ekpo Cultural group, the Mary Slessor Caravan, Cocoa pod, the low land Gorilla of the last rain forest in West Africa. The Carnival presents a perfect platform from brand visibility for consumer and market awareness.
"According to Osima-Dokubo, the carnival aimed to include more aspects of local heritage and culture and
at the same time strengthen the capacity of the locals to participate in an economically beneficial way". Recently, Cross River State and Calabar has become the pride of Nigeria or Africa as far as tourism, carnivals and hospitality are concerned.
Northern Hausa representatives at Calabar Carnival
Calabar Carnival, as it is called, is a unique display of African heritage, showcased through music, dance, drama and visual creativity, which is reflected in the design of floats, costumes and make-up. Since
inception, this festival, which has become one of the biggest tourism and leisure attractions in West Africa,
has grown tremendously in popularity and scope.
In recent times, Africa has been said to be the fastest growing tourism region with international arrivals reaching a 7.5 percent increase over that of the previous year with 360 million tourists recorded in 1998, 25 million (6.94%) visited Africa (Odunsanwo, 2009) .
The World Tourism Organization (WTO, 2004) rating Nigeria as the most visited country in West Africa, projections had it that if benefits and activities of travels and tourism is utilized effectively, it could be a force for positive growth and economic especially for a developing state such as Cross River State (Ajake, 2008).
Over the past years, the Cross River State government has used this carnival to drive its tourism sector and provide exposure for its citizens, as well as develop its vast tourism sites and infrastructure such as the Obudu Ranch Resort, the Tinapa Business Resort, Marina Resort.
"Costumes were established into the Carnival in 2004 to make it more sophisticated and Comparable to the famous Brazil Carnival. Cross River State is a famous tourist destination boosting of the Obudu Mountain Resort, Kwa Water fall which was the site for Miss World photo shot in 2002, Drill Ranch,National Museum, Marina Resort(Slave History Museum), Calabar Botanic garden. For Business visitors Cross River state also has the Free trade Zone and the Tinapa Resort."
According to Governor Liyel Imoke of Cross River State "The Calabar Carnival is unique in design and presentation and you can't say this is like Brazil, Notting Hill or Trinidad and Tobago. It is unique and it's a brand we must protect, grow and celebrate. It's a brand we can use to change the perception of Nigeria like Nollywood." The carnival has always been a showcase of talents, the performing arts and culture and on exciting rallying point not only for residents but also for indigence living away from home.
The festival commenced with a tree-lighting ceremony on November 30 at the Millennium Park, Calabar and will end with a thanksgiving ceremony on January 1 of the succeeding year. Usually, musical concerts that feature renowned national and international artistes are used to make the carnival very attractive.
People like the late Lucky Dube, Joe, Alpha Blondy, Hugh Masekela, Oliver Mtukudzi, Akon, Kirk Franklin, Donnie McClurkin, Chevelle Franklyn, Fat Joe, NeYo, Asa, D'banj had at one time or the other graced the event with their rhythms and lyrics. Calabar Carnival takes place on December 26 and 27 each year.
Efik traditional wear and culture on display at Calabar carnival festival, Cross River State,Nigeria
Participation has consistently grown from a modest few thousand to the hundreds of thousands from within and outside the state. Participants and dancers are organized into bands that are required to display their
skills, talents, costumes, masquerades and dances routines during the parade that promenades along a
12km route through the city of Calabar. The five registered bands are:
i. The bayside band; which goes with the blue colour.
ii. The freedom band; which goes with yellow
iii. Passion four; with green
iv. Master blaster in orange
v. Seagulls in Red.
The carnival Calabar of 2006 comprised of a cultural carnival which is a unique feature and a further enrichment of the festival. This is the introduction of the cultural carnival group into the carnival band. The
Governor's vision was to ensure that cultural values and contents form a major component of the experience. Thus a band of cultural dance troupes' drama from the 18 local government of the Cross River State, cultural group from other states of the federation as well as non- indigenous communities living in Cross River State participated for a total experience. In all these, the cultural content of the carnival has been heightened to
play up trado-originality and above all the cultural African content (Cross River state Tourism Bureau, 2010)
Events for the 2011 Calabar carnival, for example, started on the 30th of November with the Tree Lighting Ceremony at the Millennium Park and run till the 1st of January 2012.
Stars who featured in the show included Don Moen who performed live on the 4th of December, Sean Kingston Live on 16th December, Yolande Adams live 18th December, Rick Ross Live on the 28th December, Al Jarreau Live on the 17th of December, Rayvon 29th December. Salif Keita performed on the African Night 6th December. Nigerian musicians who were also part of the show: D' banj, Psquare, Tuface, J Martins, MI, Ice Prince and lot more.
Apart from the street party that stretched a 12KM route, other events lined up include Ladies Night out with Angie Stone, Tiwa Savage, Theater Night, Food Fair, Christmas Concert, Masked Fete, Golf Tournament, Pageant, Comedy Night and a lot more activities. Each event attracts a Ticket price.
Activities for this year's festival was kick-started with the traditional tree lighting ceremony on November 30 at Tinapa and it attracted Nollywood stars and eminent Nigerians.
The Night of Kings and Queens holding at the Calabar Stadium and featuring the five junior and senior bands will hold on December 25. A command performance by the Steel Band from Trinidad and Tobago and the Beija-Flor, Brazil's most successful band at the Rio Carnival will happen same night at the venue.
The cultural parade featuring the 36 states and the Federal Capital Territory holds on December 26 by 8am. The show will also feature the 18 local councils in Cross River and some African countries including Cameroun, Ghana and Rwanda. The 2.5 kilometre children's parade holds thereafter at 2pm.
The festival will climax on December 27 with Africa's biggest street party, the Carnival Calabar, featuring the five senior bands - Bayside, Passion4, Masta Blaster, Seagull and Freedom. The Trinidad and Tobago Steel Band and Brazil's Beija-Flor will also participate in the street party.
Another uniqueness of the 2013 Carnival Calabar is the inclusion of a Nollywood Band in the street parade at the request of actors present at the briefing and who requested Governor Imoke's permission to participate.
source:
https://globaljournals.org/GJHSS_Volume12/8-An-Assessment-of-the-Influence.pdf
Nollywood band debuts at Carnival Calabar •As Brazil, France, Ghana, Rwanda, Egypt floats ready
Written by 'Wale Olapade
AS the organiser of the biggest street party in Africa, Carnival Calabar flags its series of dry run to prepare the people, tourists and different band contenders for the 2013 edition, Nigerian movie stars have indicated interest in owning a band in the annual carnival.
In addition, this year's edition of the carnival will take on a more international flavour with more countries such as Brazil, France, Ghana, Rwanda and Egypt indicating that they will be sending bands to the carnival.
This was revealed at a pre-event press conference that took place at the Tinapa Business and Leisure Resort at the weekend.
Calabar Carnival celebrant
Speaking at the interactive session, Governor Liyel Imoke, explained that Carnival Calabar is of tremendous value to Cross River State and Nigeria.
"The truth about Nigeria is expressed in Carnival Calabar because it does not discriminate," the governor explained.
"This carnival is the reflection of Nigeria, the beauty of Nigeria, its uniqueness in design and presentation and like Nollywood, it can change the image of Nigeria.
"There is opportunity for a partnership to grow the carnival and the private sector especially finance houses need to understand and invest in the creative industry because of its potentials."
According to him, "The partnership can boost the local economy and promote the Cross River brand."
On the charity content of Carnival Calabar, Imoke explained that the office of his wife, Mrs Obioma Liyel Imoke handles it through an array of activities, adding that a lot comes out of it and would want the press to understand it and project it collectively as a brand.
He described Carnival Calabar as a perfect brand because of its value.
Mrs Obioma Liyel Imoke, wife of the state governor explained that a six-kilometre HIV/AIDS International Day walk meant to create awareness as well as kick against stigmatisation precedes the 32-Day Calabar fiesta.
According to her, there is a series of programmes packaged to raise money for abandoned children, young mothers while the Carnival Calabar Queen is picked as tourism ambassador for the young ones and her responsibility includes visiting schools to advise students against premarital sex.
Mr Nzan Ogbe, Special Adviser Governor's Office, said the carnival has over the years become an iconic product, which has attained a global acceptance because people all over the world participate.
Ogbe explained that this year's carnival comes with variety of activities, which includes charity show, sports, culture, dance, singing and a carnival as the icing on the cake.
He promised that this year's festival would be bigger and better than the previous events with participants from Trinidad and Tobago, Brazil, Cameroon, Rwanda and some other West African countries.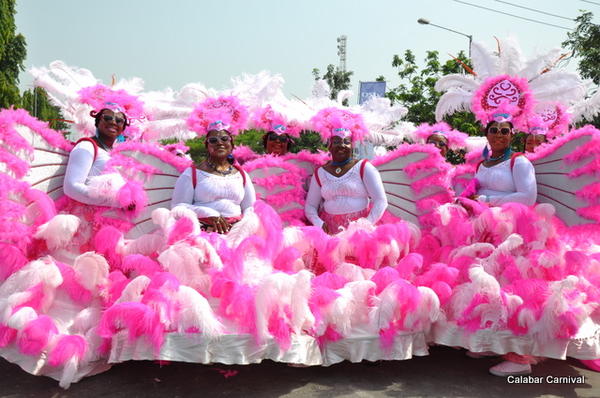 Photo-source:
http://www.skyscrapercity.com/showthread.php?t=892524